Color Correcting Concealer Pro Palette
Our 12 Color Concealer Palette is thoughtfully curated to provide an extensive range of shades, ensuring a perfect match for every skin tone. From fair to deep, warm to cool undertones, our palette empowers you to achieve impeccable coverage and create stunning makeup looks.
Key Features:
Comprehensive Shade Range: Our palette features 12 carefully selected shades, ranging from light to dark, designed to cover imperfections, discoloration, and blemishes on various skin tones.
Customization and Private Label Options: We understand the significance of individuality. That's why we specialize in customization and private label services, enabling you to personalize the concealer palette with your unique branding, logo, and packaging. Stand out in the market with a product that reflects your brand's identity.
High-Quality Formulation: Our concealer palette is crafted with a high-quality formula that delivers excellent coverage while maintaining a lightweight feel on the skin. The creamy texture blends effortlessly, providing a smooth and natural-looking finish.
Multi-Functional Use: The versatile nature of our palette allows for a wide range of applications. You can use the shades individually to conceal specific areas or mix and blend them together to create custom shades that suit your unique needs.
Professional-Grade Performance: Our concealer palette is designed to meet the standards of professional makeup artists and beauty enthusiasts alike. With its long-lasting wear and reliable coverage, it ensures a flawless base for any makeup look.
Elevate your brand with our 12 Color Concealer Palette, offering a diverse range of shades, customization options, and exceptional quality. Contact us today to discuss how we can collaborate to bring your brand's vision to life and provide beauty enthusiasts with a remarkable product they'll adore.
Welcome to print your brand name

Guangdong, China

Available stock within 3 days, private label 7-10 days

50000pcs/ month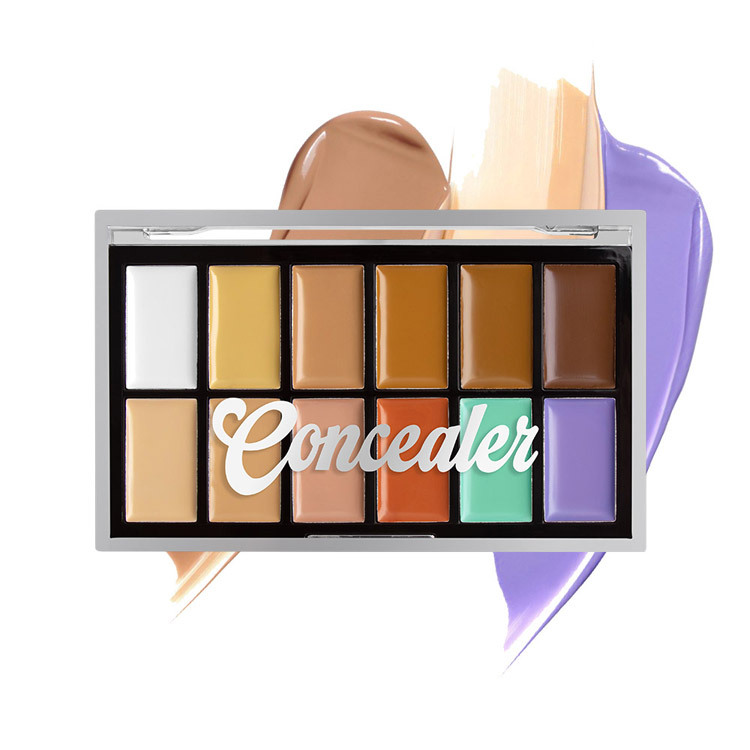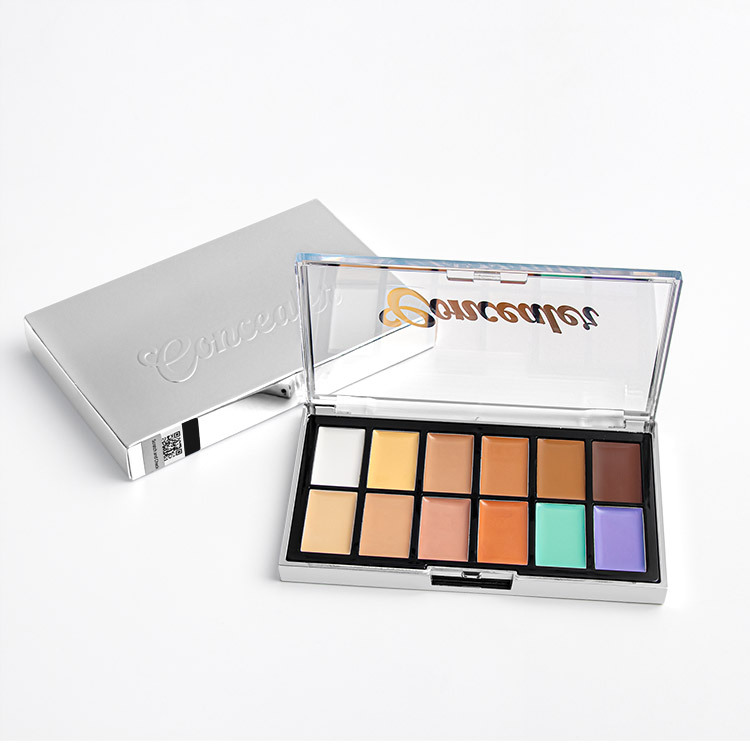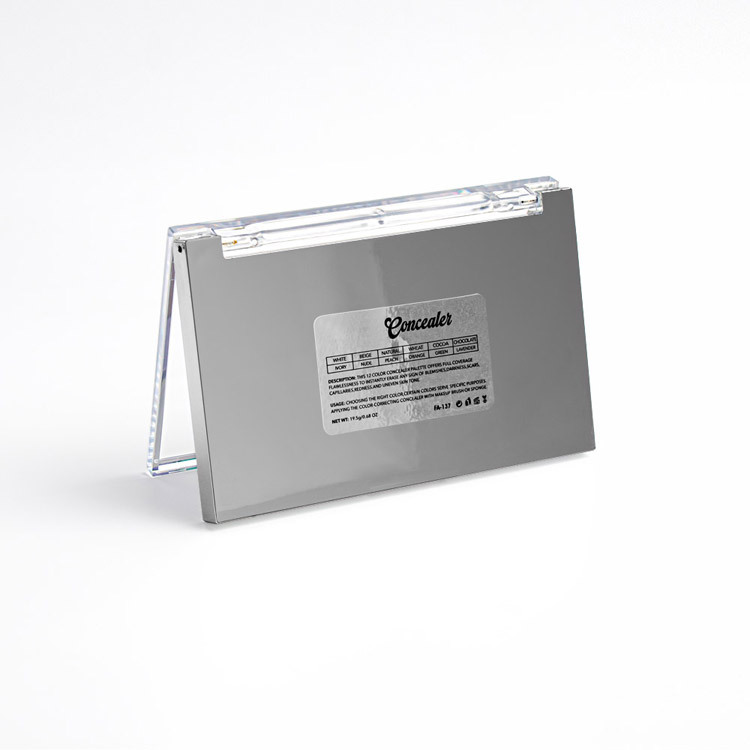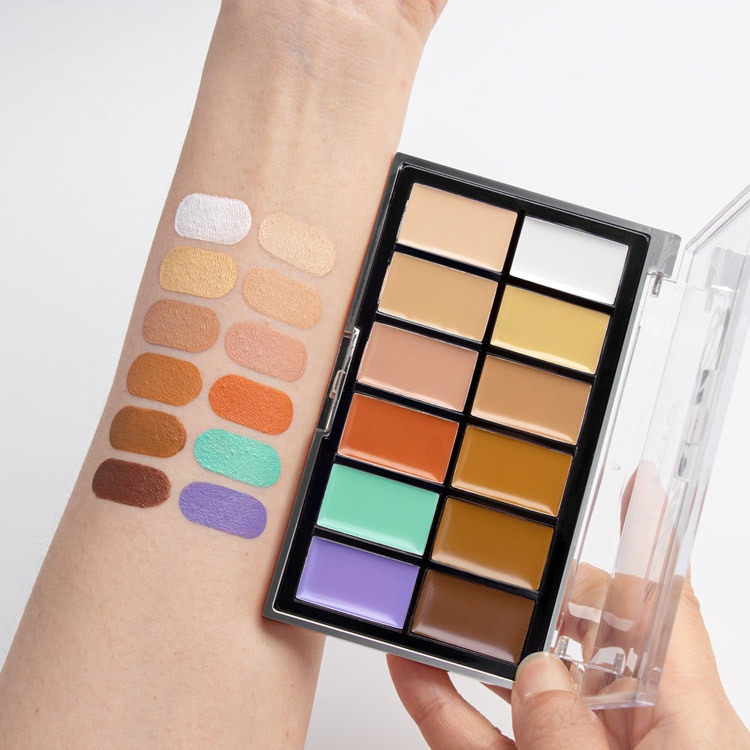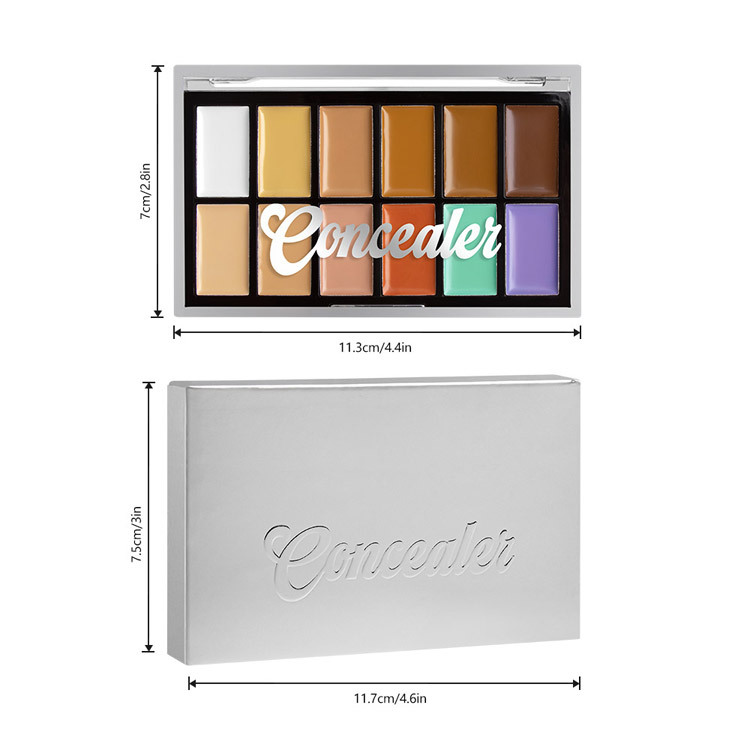 Color Correcting Concealer Pro Palette
Description:
Multiple Shades: A versatile concealer palette typically offers a range of shades to cater to different skin tones and undertones. This allows for precise color matching and customization to achieve the desired coverage and natural finish.

Color Correction: Some concealer palettes include color correctors alongside skin-toned concealers. These correctors come in various shades to neutralize specific concerns like redness, dark circles, or discoloration, providing a more even complexion.

Creamy and Blendable Formula: A good concealer palette features a creamy and blendable formula that is easy to work with. This ensures smooth application, seamless blending, and a natural-looking finish without settling into fine lines or creases.

Buildable Coverage: The palette should offer buildable coverage options, allowing you to customize the level of coverage based on your specific needs. This versatility ensures that you can achieve both natural, sheer coverage and more intense coverage for blemishes or imperfections.

Long-lasting and Waterproof: A desirable feature in a concealer palette is long-lasting wear, meaning it stays put throughout the day without fading or transferring. Waterproof or water-resistant properties can also be beneficial, particularly for those who require their concealer to withstand humidity or sweat.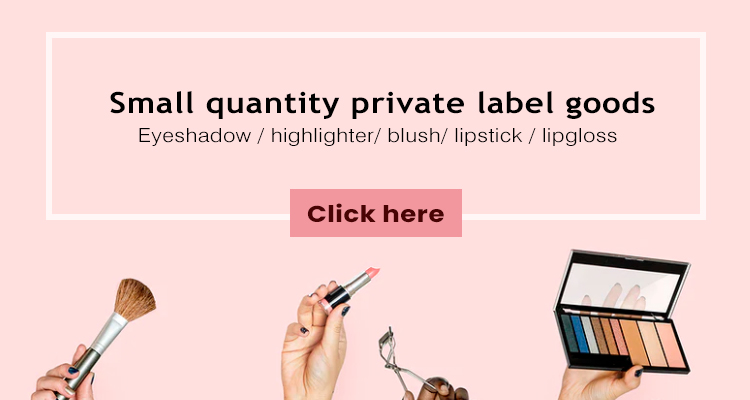 ---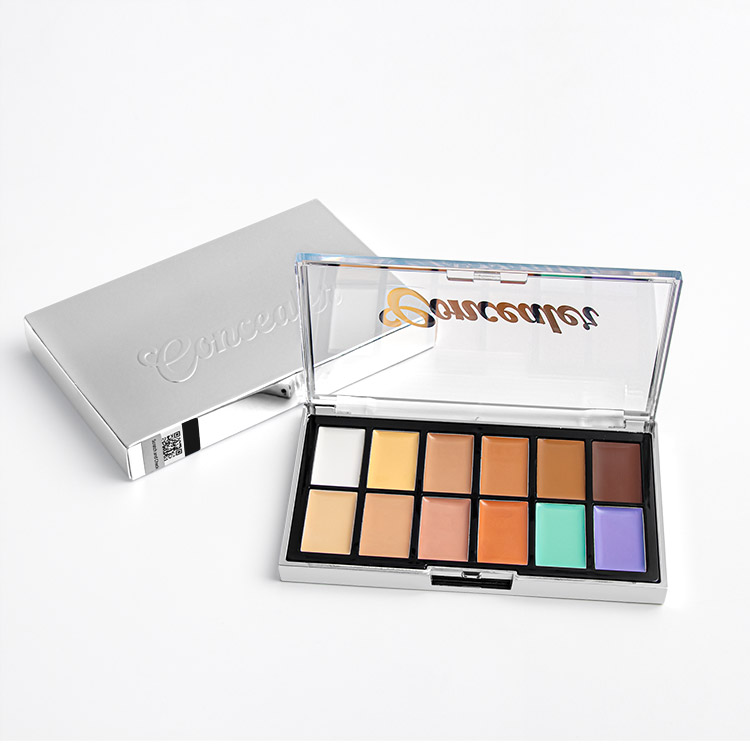 ---
How to use the concealer palette:
Prep your skin: Cleanse and moisturize your face to create a smooth base for makeup application.

Select shades: Choose the concealer shades from the palette that closely match your skin tone or address specific concerns like dark circles or blemishes.

Apply color correctors (if included): If the palette has color correctors, apply them to neutralize any specific concerns. Use green for redness, peach/salmon for dark circles, and lavender for sallowness.

Apply concealer: Using a brush, sponge, or fingertips, apply the concealer directly to the areas you want to cover or correct.

Blend: Gently blend the concealer into your skin using patting or dabbing motions until it seamlessly merges with your skin. Blend the edges for a natural look.

Set (optional): If desired, set the concealer with a translucent powder to increase its longevity and prevent creasing.

Continue with makeup: Proceed with the rest of your makeup routine, such as foundation, blush, or other products.
Specification:
| | |
| --- | --- |
| Brand | Custom |
| Item Number | 12 color concealer palette |
| Color | 12 color palette |
| MOQ | 12000 pcs |
| Sample time | 10-12days |
| Lead time | Mass Production 30-35 days |
| Production Capacity | 5000 pcs per day |
| Shipment | DHL/ EMS/ UPS/ Fedex/ TNT/ By air/ By sea |
| Payment methods | T/T, Paypal, Western Union, Moneygram, Alibaba Trade Assurance |
| Payment terms | For OEM orders, 30% deposit paid before mass production, and 70% balance should pay before shipment |
| Certifications | GMPC, ISO22716, SGS, MSDS, FDA |
| Ingredients | |
---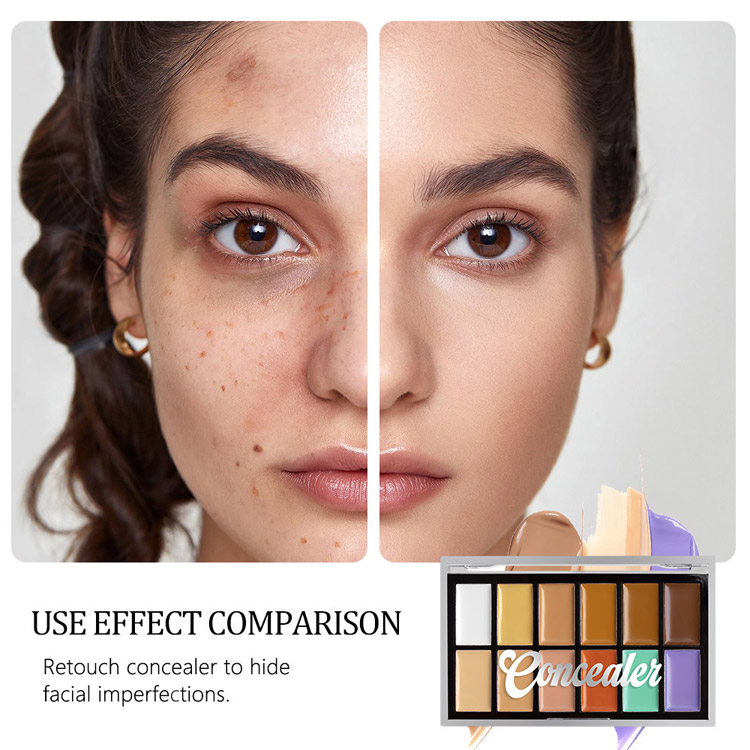 Customizable shades for flawless coverage in one palette.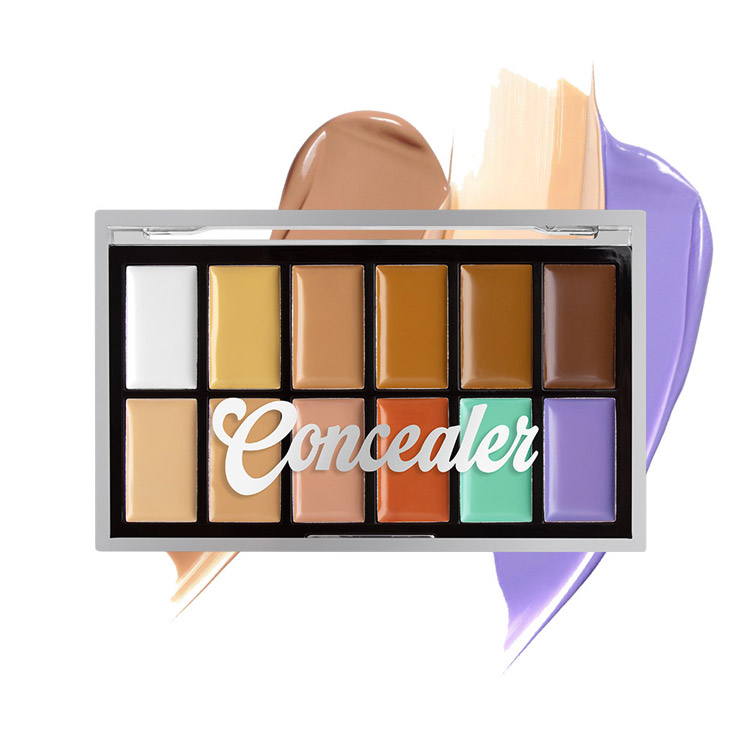 Blendable concealer palette for a seamless finish.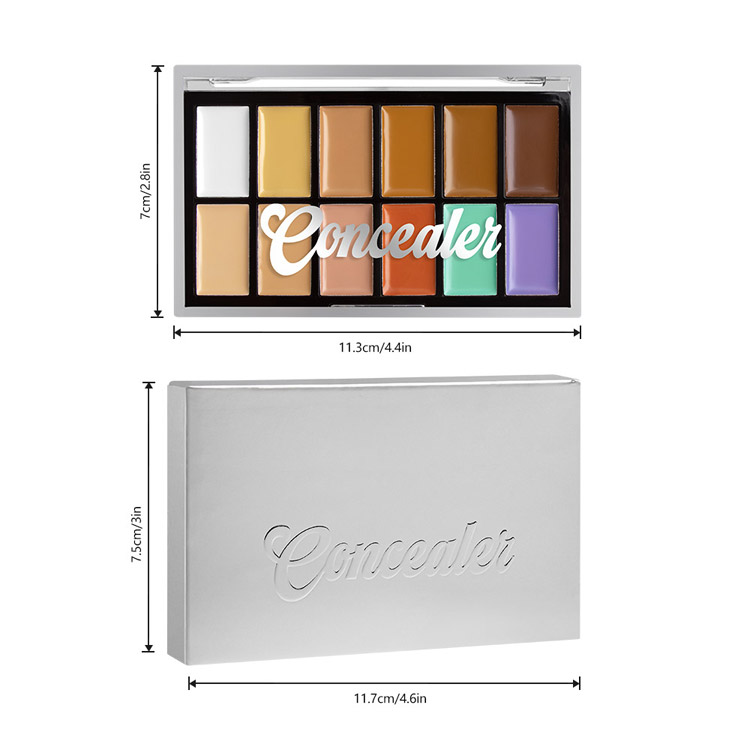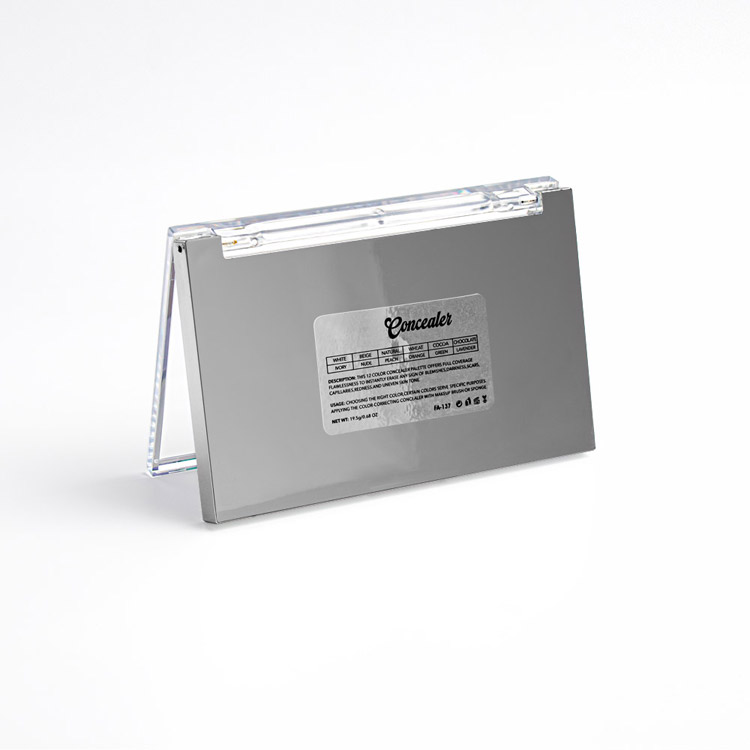 Color correct and conceal with this all-in-one palette.
Professional-quality coverage in a compact palette.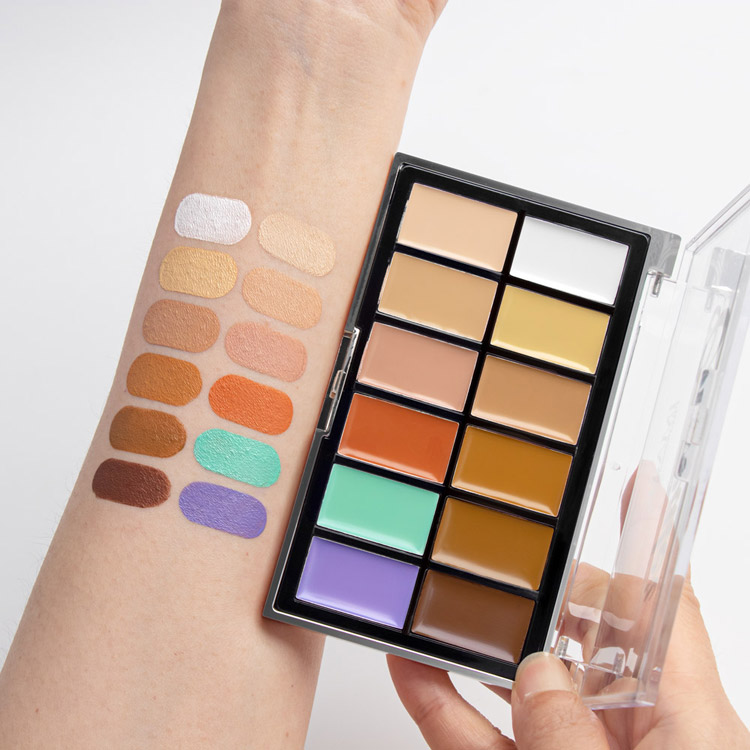 Effortlessly hide imperfections with this travel-friendly concealer palette.
---
How to place an order with mola cosmetics:
1. Inform us the quantity you want for this blush stick.
2. After we knew your requests, we will make invoice and indicate the payment information for you to complete the payment.
Minimum order quantity: 12000 pcs.
3. Shipping cost depends on your shipping address and the goods total weight, so please let us know the shipping address as well.
---
Full Customization Service (MOQ is 12000 pcs)

We can customize the makeup formula, if the quality not you want that can be updated based on your test feedback. Clean formuala are possible.

The blush stick can be customized by choosing shades from our color charts, Pantone colors or customize by your samples.

The paper packaging box can customize any colour, design, size etc.If you do not have your own designer,we can make design for you freely.
---
FAQ

Q: How do I choose the right concealer palette for my skin tone?
A: Look for concealer palettes that offer a range of shades suitable for your skin tone. Consider your undertones as well. If possible, swatch or test the shades on your skin to find the best match. Some brands also provide shade guides or descriptions to help you select the appropriate palette.
Q: How do I apply concealer from a palette?
A: Use a small brush, sponge, or your fingertips to apply the concealer directly to the targeted areas. Gently tap or blend the product onto the skin until it blends seamlessly. Start with a small amount and build up coverage as needed.
Q: Can I use a concealer palette for color correction?
A: Yes, many concealer palettes include color correctors. These correctors are specifically formulated to neutralize and balance out specific concerns, such as redness, dark circles, or discoloration. Use the appropriate color corrector shades before applying your regular concealer.
Q: How can I make my concealer last longer?
A: To improve the longevity of your concealer, ensure your skin is properly cleansed and moisturized before application. Set the concealer with a translucent powder to help it stay in place and prevent creasing. Additionally, avoid excessive touching or rubbing of the concealed areas throughout the day.
Q: Are concealer palettes suitable for all skin types?
A: Yes, concealer palettes are typically designed to work well with various skin types, including dry, oily, and combination skin. However, it's important to choose a formula that suits your specific skin concerns, such as a hydrating formula for dry skin or a matte formula for oily skin.
Remember, specific instructions and recommendations may vary depending on the brand and product you're using, so always refer to the packaging or consult the brand's website for any additional information or guidelines.
Get the latest price? We'll respond as soon as possible(within 12 hours)